Bohemian Bull's Reuben & Cuban Sandwiches
The Reuben and The Cuban: All About These Classic Sandwiches
Who doesn't love a tasty sandwich packed with meat, cheese and all the right toppings? Sandwiches are a beloved staple in our diet, and it's easy to see why. There's a sandwich for everyone no matter what meat, cheese or topping you prefer. Whether you like a messy sandwich stacked high or you prefer it warm and neatly pressed, there's a lot to love about this classic!
Not only are sandwiches great for any meal of the day (dinner? Sure. Lunch? Of course. Even breakfast!), but there's a lot more to appreciate about these handheld beauties. At Bohemian Bull, we have a special affinity for sandwiches, which is why you'll find a tasty variety of them on our menu. Two that stand out are our Classic Reuben and Bar-B-Cuban. Not only are these sandwiches delicious (of course), but they each have a history that extends far beyond our neck of the woods. Keep reading for the mouth-watering stories of where these unique sandwiches came from.
What's in Them:
Before we jump into the history of the Cuban and the Reuben, let's first break down what exactly each of these sandwiches are.
A Reuben is easily recognized by a huge pile of salty corned beef sandwiched between two slices of rye bread. Also tucked into this messy sandwich are Swiss cheese, sauerkraut and Russian dressing.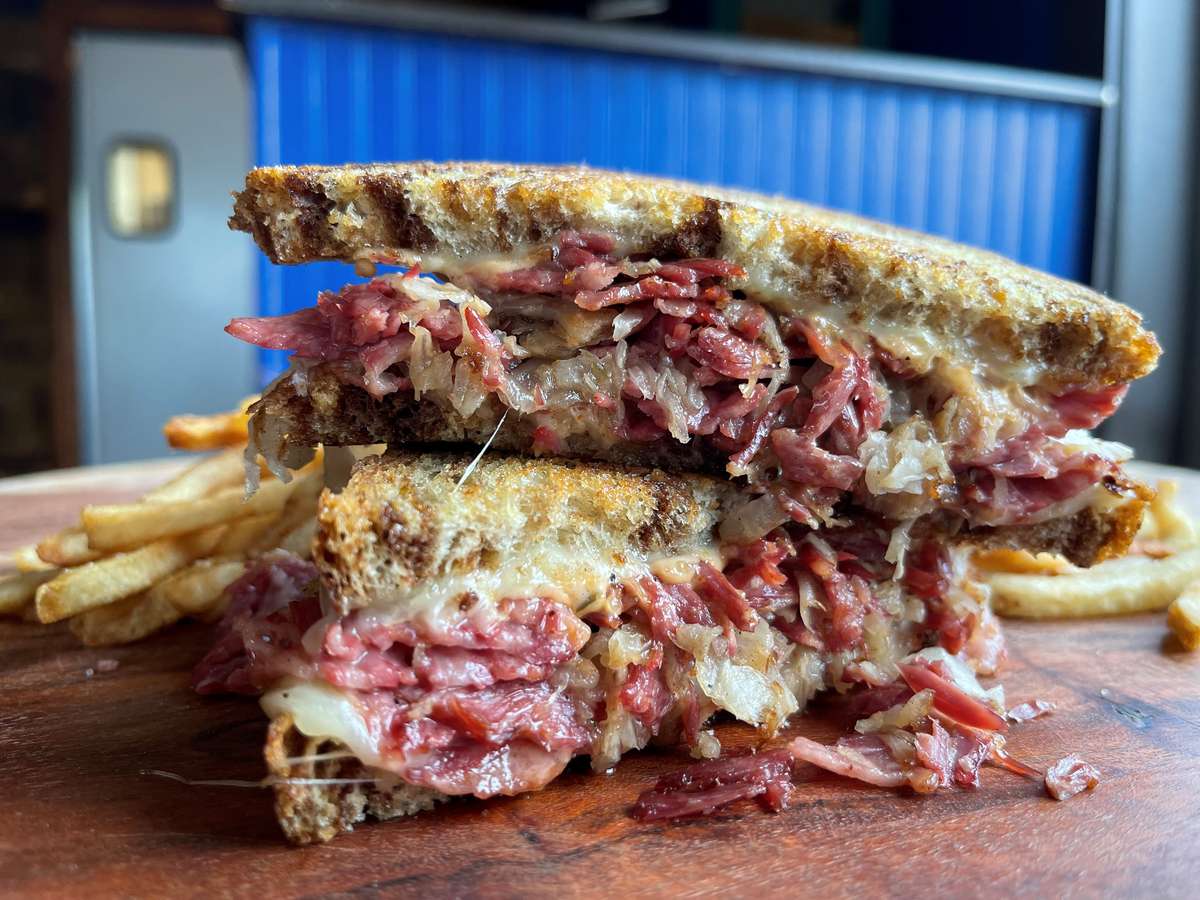 While these aren't your everyday sandwich ingredients, they do come together to create this deliciously iconic deli staple. To create the star of this dish, beef brisket is cured in a salty solution. Historically, this was done to preserve the meat, but this method has continued to be popular because of the tenderness and flavor it imparts on the meat. Another important part of any Reuben is of course the sauerkraut, which is actually just picked cabbage! Finally, another often-misunderstood ingredient in a Reuben is Russian dressing. Russian dressing is very similar to Thousand Island dressing in that it is made using mayonnaise and ketchup, however the most notable difference is that Russian dressing has a little more heat to it thanks to the addition of horseradish and pimentos.
A Cuban sandwich can be recognized by its signature pressed style. This pressed sandwich consists of roasted pork, ham, Swiss cheese, pickles and mustard between two slices of Cuban bread. The bread is an important part of what makes this sandwich so special. Cuban bread is similar to French and Italian bread in terms of having a hard crust with a fluffier inside. Another signature characteristic of this sandwich is the extreme pressing it receives. This compresses the bread and lets the juices out of the pork, for a more compact and tastier bite.
Where They Came From:
Now that you know what makes up a Cuban and a Reuben, you're probably wondering what brought these assortments of ingredients between two slices of bread together in the first place. One thing these sandwiches have in common is that their exact origins are a little murky.
The two main origin stories for the Reuben come from Omaha, Nebraska and New York City. One story describes Reuben Kulakofsky, a Jewish Lithuanian-born resident of Omaha, who would regularly order a sandwich with corned beef and sauerkraut when he attended poker games at the Blackstone Hotel around 1920 through 1935. Charles Schimmel, the hotel's owner and another player in these poker games, eventually added this item to the hotel's lunch menu where it gained popularity. Another origin story, however, describes the owner of Reuben's Delicatessen in New York City, Arnold Reuben, as creating the sandwich in 1914 and serving it as the "Reuben Special."
Similarly, it's hard to say exactly when and where the Cuban sandwich was created. Generally, it's believed that in the late 1800s and 1900s it made its way from Cuba to Southern Florida due to the constant travel of Cubans into the area. Some believe that this sandwich was a common lunch item for workers in the cigar factories and sugar mills of Cuba.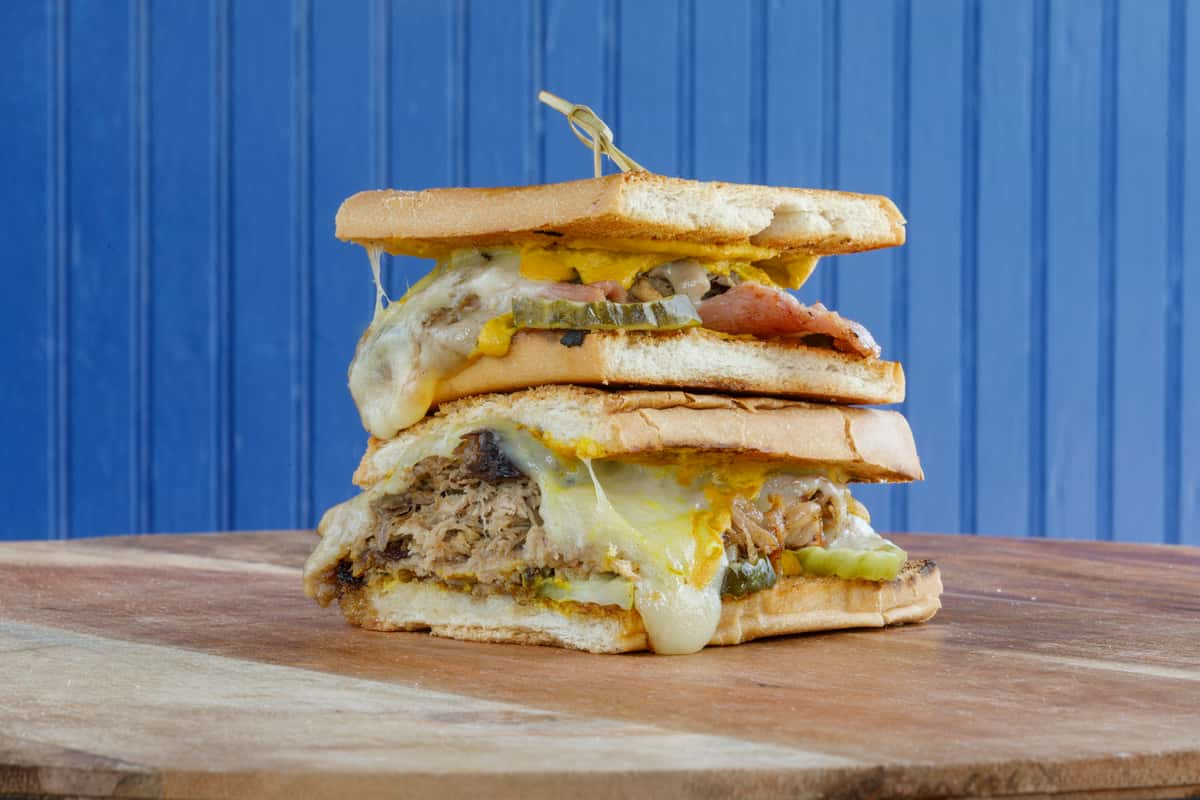 This would support the idea that as workers came from Cuba to Florida and as the cigar industry in Florida shifted to Tampa, Cuban workers brought the sandwich over with them. In 1934 there's documented newspaper articles stating that Tampa had a unique culinary scene compared to the rest of Florida, with the Cuban being one of those unique dishes. Even with Tampa's claim to be where the Cuban sandwich got its start in America, Miami still fights for credit as well. During the influx of Cuban expatriates coming to America - Miami specifically, during the 1960s, the Cuban became a staple of Miami restaurant menus.
We may never know exactly where these sandwiches started, but there's no doubt that they've each had a long and delicious history.
How We Do it:
The classic Reuben and Cuban sandwiches are flavor masterpieces which is why we've included them on our menu for you to enjoy. We do these sandwiches justice by focusing on fresh ingredients and made-from-scratch processes.
For our Classic Reuben sandwich we start by braising corned beef in Guinness. Braising the corned beef this way brings out all of the rich flavors in the meat while making it extremely tender. During the cooking process, the alcohol of the beer evaporates, leaving behind all of the delicate flavor notes. Next, we take our Guinness braised corned beef and add it to the makings of a classic reuben sandwich: Marbled rye, Thousand Island dressing, Swiss cheese and of course Sauerkraut.
You may notice on our menu that, unlike our Classic Reuben, we refer to our Cuban sandwich as a Bar-B-Cuban. Our Bar-B-Cuban has all the hallmarks of a classic Cuban sandwich, but we add a barbecue spin to our sandwich by using smoked pulled pork rather than sliced, roasted pork. Using smoked pork gives this classic sandwich a little bit of Southern flair while still maintaining the rich, tender porky flavor the original is known for. We then add the traditional toppings of sliced ham, pickles, mustard and Swiss cheese resulting in a deliciously pressed sandwich.
Whether you're team Reuben or Cuban sandwich, you'll love our fresh, hand-crafted versions of these classics.
Copyright © 2022 Minieri & Company, LLC. All Rights Reserved.